Out of stock
Add to basket €

13.5
Buy with 1 click
Thank you for the information, our sales manager will call you as soon as possible.
See detailed description
Volume: 100ml
97% Natural ingredients
* Organic Cultivation
Greek Cosmetic Product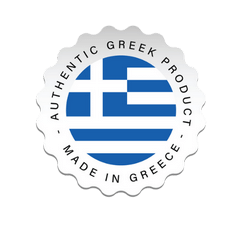 Detailed description
Euthalia Brightening Exfoliating Balsam 100ml
Brightening Exfoliating Balsam, For Face & Body, Cistus & Olive Seeds - An exfoliating balsam with a soft and active mixture of olive oil, olive stone and cistus ladaniferus essential oil. It polishes away dead skin cells, offering a youthful glow to the skin.
For external use only.
*PARABEN FREE • CRUELTY FREE • NON GMO • GLUTEN FREE • DERMATOLOGICALLY TESTED
---
Product specifications
Indications
Brightening
Exfoliating
Soothing
---
Composition
Aqua, Prunus Amygdalus Dulcis Oil, Olive Stones, Glycerin, Glyceryl Stearate, Cetearyl Alcohol, Cetyl Alcohol, Potassium Palmitoyl Hydrolyzed Wheat Protein, Olea Europaea (Olive Fruit) Oil*, Benzyl Alcohol, Dehydroacetic Acid, Potassium Sorbate, Citric Acid, Cistus Ladaniferus Oil*, Rosa Damascena Flower Oil*.
---
How to use
Apply with gentle circular m massage moves the product on dry skin, body and face, avoiding the eye area and rinse. Use it 2-3 times a week.
---
Applicable skin type
All skin types
Sensitive skin
---
Manufacturer
Euthalia
---
Documents
1. Instructions: Euthalia Brightening Exfoliating Balsam